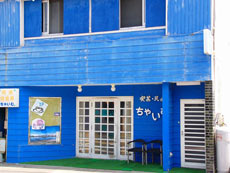 The husband likes to stay at places with character and attitude. A minshuku is kind of like a B&B but in some cases even dinner is included, too!
We found Chime on the Japanese Rakuten Travel website and it really stood our because it wasn't some major hotel. It looked cute and the reviews (there were only 2) were good, too.
I took pictures, but my camera reformatted itself or something, so those are gone, gone with the wind.
Kushimoto is the southernmost place on Honshu (the main island of Japan) and is a great place for seafood. I believe there are tuna farms or something, but we didn't go as it's pretty difficult to get around without a car.
The owner of Chime came to pick us up at the train station, cooked us dinner (sashimi, soup with a huge chunk of Ise ebi (spiny lobster) in it, rice, and a bunch of other stuff that I can't really remember), then after dinner, she drove us to a local hot spring, and came to pick us up!! Talk about serivce...
She was very lovely and accomodating but to be honest, I don't think I was in the mood for a place like this. We had a very long day, our morning didn't go the way we planned, we had to rush through a lot of our sightseeing, and so the last thing I wanted was to make small talk. I just wanted to crash on a bed. When you stay at a place where the owner is making your food and basically watching you eat it, you feel so guilty leaving stuff uneaten but I had to. There was so much food and I just couldn't fit it all in. The husband tried to help but our stomachs can only hold so much!
Chime might be a fun place to stay if you're travelling at a relaxing pace and feeling like mingling with a local. I really did appreicate everything the owner did for us. I'm just afraid I came off as an aloof, indifferent person... Sorry!
Maybe if we decide to pass through Kushimoto we'll rent a car (this is a must), stop by and say hello again. She was a bit surprised to have foreign guests but in a good way.